We Are the Leading manufacturer & exporter of
Washers
We manufactures and exports high quality Washers worldwide. Learn more about our products.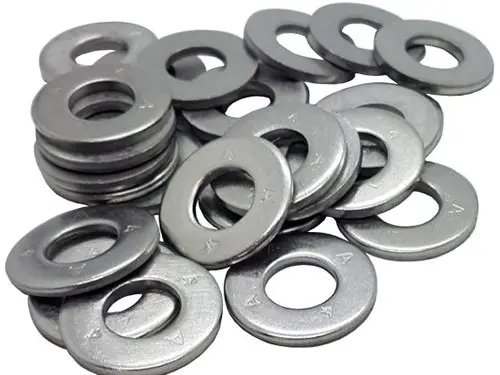 Metalfort Inc. we stand behind our products, a team of our experienced engineers, we dedicate for complex & strict defined requirements, we have manufactured fasteners based on complex drawings where many companies have refused to manufacture the same to our customers because of their complexity & requirements of special grades, Ramesh Steel Corporation is Centrally located in Mumbai, India, Metalfort Inc. has played a vital role in the growth of Duplex Steel Fasteners, Stainless Steel Fasteners, A325 Flat Washers, Bolts & Nuts Screws & Washer, we are manufacturing Fasteners in different metals & grades like Nickel 200/201, Monel 400/K500, Inconel 600, Inconel 625, Inconel 800, Inconel 825, Hastelloy C22/ C276, Alloy 20, Titanium, Duplex & Super Duplex in form of A325 Flat Washers bolts, Nuts, Screws, Washers Etc.
Washers is a fastener that is disk type in shape and has a hole in the middle. The disk type fasteners with a hole in the middle are called Washers. The hole in the middle of the washers is the space for the threaded fastener. Washers are used to distribute the load of threaded fasteners such as bolts and nuts. They are available in different materials for different uses. Caliber Enterprise is a manufacturer of high-quality Bolts, Screws, Nuts, Washers, Rings, Threaded Rods and other Fasteners that last longer and are corrosion resistant. Caliber Enterprise is also a leading exporter of high-quality Bolts, Screws, Nuts, Washers, Rings, Threaded Rods and other Fasteners. All our Washers fasteners meet the requirements of International Quality Standards(IQS) and can be used anywhere around the world without any issues.
Washers Design
Washers has a wide variety of designs. Depending on the use of the Washers they are designed. The purpose of these designs is that the Washers are useful to the material/products. For instance in some cases like the star washers are required such as Internal Star Washers, they have internally pointed edges and vice versa for External Star Washers. Each Washers has a different specification and design. Each Washers also have a different use for which they are designed.
Metalfort Inc. is a Mumbai, Maharashtra based Manufacturer, Supplier Exporter and Dealer of the comprehensive wide range of Bolts, Nuts, Washers, Screws, Washers and Rings. The company was started in the year 2005 and is offering best quality Metal Fasteners and Rivet Guns that include different kinds of Steel Bolts, Steel Nuts, Steel Washers, Steel Rings, and Steel Washers since then.
We exports Washers worldwide
Get best quality Washers
We can help you to get best quality Washers as per your requirements.
Ontime delivery

Customization as per request

After sales Support

Best quality