Aluminium Angle
We are manufacturer of Best quality Aluminium Angle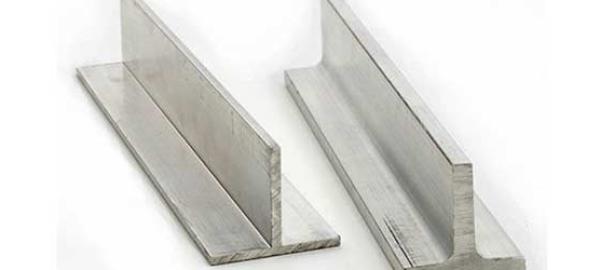 Metalfort Inc. is one of leading Aluminium 2014 T6 Round Bars Manufacturers, Suppliers & Exporters. It is a relatively soft, durable, lightweight, ductile, and malleable metal with appearance ranging from silvery to dull gray, depending on the surface roughness. Aluminium 2014 T6 Bars is nonmagnetic and does not easily ignite.
Aluminium Alloy 6351 Angles, Aluminium Alloy H-14 Angle Bars, Aluminum Angles, ASME SB221 Aluminium Alloy Angles, Aluminum 6063 Angle Bar Suppliers in Mumbai, India.
Aluminium 2014 T6 Rods are vital to the aerospace industry and important in transportation and structures, such as building facades and window frames. We are also a leading suppliers of Aluminum Bronze AMS 4640 Round Bars, Aluminium 7075 T6 Round Bar, Aluminium 6082 T6 Round Bar, etc.
Aluminium 2014 T Angles, Aluminium Angles Weight Chart, Aluminium 2017 L Angles, Aluminium Angles Manufacturer, Aluminium Alloy 5083 Angles Exporter in India.
ASTM B221 Aluminium Structural Angles, Aluminium 5083 Equal Angles, Aluminium 5086 Unequal Angles, Aluminum 6061 Architectural Angles, Aluminium 6082 Extruded Angles, Aluminium Alloy Industrial Angles In India.
The oxides and sulfates are the most useful compounds of Aluminium. As a supplier, stockiest, exporter and manufacturer, we provide these round bars and rods in custom-built thicknesses and sizes according to exact requirements of our well-regarded patrons.We offer the same at economical prices to our consumers.
Aluminium Angle Specification
Standards : ASTM B221 / B211 ASME SB221 / SB211, EN573, EN485, AMS 4003, AMS 4102
Standard : ASTM, ASME, AMS, GB/T, JIS
Thickness : 50 mm to 6000 mm Long
Size : 3mm* 20mm* 20mm~ 12mm* 100mm* 100mm
Length : 1 To 6 Meters, Custom Cut Length
Finish : Mill, Customer specific finish
Surface : Anodize, powder coating, electrophoresis, PVDF coating, wood grain painting, matted, etc
Aluminium Alloy Angle Standard Specification
ASTM B211/ASME SB211 - Specification for Aluminum and Aluminum-Alloy Rolled or Cold Finished Bar, Rod
ASTM B221/ASME SB221 - Specification for Aluminum and Aluminum-Alloy Extruded Bars, Rods
ASTM B565/ASME SB565 - Test Method for Shear Testing of Aluminum and Aluminum-Alloy Rivets and Cold-Heading Rods
ASTM B316/ASME SB316 - Standard Specification for Aluminum and Aluminum-Alloy Rivet and Cold-Heading bars and Rods
AMS 4102/ISO Al99.0Cu - Standard Specification for Aluminum and Aluminum-Alloy Cold / Hot Rolled Bars, Rods
Aluminium Angle Physical Properties
| | |
| --- | --- |
| Physical Property | Value |
| Density | 2.82 g/cm³ |
| Melting Point | 535 °C |
| Modulus of Elasticity | 71 GPa |
| Electrical Resistivity | 0.045 x10^-6 Ω .m |
| Thermal Conductivity | 138 W/m.K |
| Thermal Expansion | 23 x10^-6 /K |
Standard Specification of Aluminium Angle
Specification
Alloy
Temper
Company
Europe
EN 2089/2395
2017
T6(T62)/T4(T42)
EN 2087/2088
2017 clad
T6(T62)/T4(T42)
France
AIR 9048.010/.030/
2017
F(T42)/F(T62)/T4/
.020/.040/.050
2017
T6/T451
AIR 9048.060/.080/.070/.090
2017 clad
F(T42)/F(T62)/T4/T6
Germany
W.-Nr. 3.1254
2017
T4, T6
W.-Nr. 3.1354
2024
O(T42), T3
United Kingdom
BS L156/157/158*/159*
2017
158*/159*
2017 clad
(T42)(T62)
BAE Systems
BS L163/164/165
2017 clad
T3/F(T42), T4/T6
BS L166*/167*
2017 clad
F(T42), T4/T6
USA
AMS QQ-A-250/3
2017 clad
O, T4, T6
Weight Chart of Aluminium Angle
| | | |
| --- | --- | --- |
| Product | Diameter | Weight |
| Aluminium Angle | 6 mm | 0,076 Kg/m |
| Aluminium Angle | 7 mm | 0,104 Kg/m |
| Aluminium Angle | 8 mm | 0,136 Kg/m |
| Aluminium Angle | 9 mm | 0,172 Kg/m |
| Aluminium Angle | 9,5 mm | 0,191 Kg/m |
| Aluminium Angle | 10 mm | 0,212 Kg/m |
| Aluminium Angle | 11 mm | 0,257 Kg/m |
| Aluminium Angle | 12 mm | 0,305 Kg/m |
| Aluminium Angle | 12,5 mm | 0,331 Kg/m |
| Aluminium Angle | 13 mm | 0,358 Kg/m |
| Aluminium Angle | 14 mm | 0,416 Kg/m |
| Aluminium Angle | 16 mm | 0,543 Kg/m |
| Aluminium Angle | 16,5 mm | 0,577 Kg/m |
| Aluminium Angle | 18 mm | 0,687 Kg/m |
| Aluminium Angle | 19 mm | 0,766 Kg/m |
| Aluminium Angle | 20 mm | 0,848 Kg/m |
| Aluminium Angle | 22 mm | 1,026 Kg/m |
| Aluminium Angle | 25 mm | 1,325 Kg/m |
| Aluminium Angle | 28 mm | 1,663 Kg/m |
| Aluminium Angle | 30 mm | 1,909 Kg/m |
| Aluminium Angle | 31 mm | 2,038 Kg/m |
| Aluminium Angle | 32 mm | 2,171 Kg/m |
| Aluminium Angle | 35 mm | 2,598 Kg/m |
| Aluminium Angle | 38 mm | 3,062 Kg/m |
| Aluminium Angle | 40 mm | 3,393 Kg/m |
| Aluminium Angle | 45 mm | 4,294 Kg/m |
| Aluminium Angle | 50 mm | 5,301 Kg/m |
| Aluminium Angle | 55 mm | 6,415 Kg/m |
| Aluminium Angle | 60 mm | 7,634 Kg/m |
| Aluminium Angle | 65 mm | 8,959 Kg/m |
| Aluminium Angle | 70 mm | 10,391 Kg/m |
| Aluminium Angle | 75 mm | 11,928 Kg/m |
| Aluminium Angle | 80 mm | 13,572 Kg/m |
| Aluminium Angle | 90 mm | 17,177 Kg/m |
| Aluminium Angle | 100 mm | 21,206 Kg/m |
| Aluminium Angle | 105 mm | 23,379 Kg/m |
| Aluminium Angle | 110 mm | 25,659 Kg/m |
| Aluminium Angle | 120 mm | 30,536 Kg/m |
| Aluminium Angle | 127 mm | 34,203 Kg/m |
| Aluminium Angle | 130 mm | 35,838 Kg/m |
| Aluminium Angle | 140 mm | 41,563 Kg/m |
| Aluminium Angle | 150 mm | 47,713 Kg/m |
| Aluminium Angle | 180 mm | 68,707 Kg/m |
| Aluminium Angle | 200 mm | 84,823 Kg/m |