We Are the Leading manufacturer & exporter of
Aluminium Copper Bimetal
We manufactures and exports high quality Aluminium Copper Bimetal worldwide. Learn more about our products.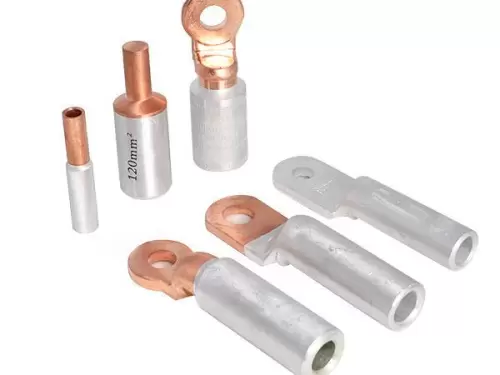 Bimetal Consists of Copper Sheet cladded on pure Aluminum Which is Base Metal alloy , both metal being diffused to form an inseparable whole by rolling bonding process. Bimetal , is therefore not and alloy and copper layers are not electro Plating but are rather mechanically welded Aluminum Plates / Sheet.
Specifications
| | |
| --- | --- |
| Thickness | 0.6-3.0mm |
| Width | 600-1000mm |
| Features | The composite has high strength and realizes surface composite between copper and aluminum. According to different uses, the material and material state of the substrate can be adjusted, and the comprehensive performance of the material can be adjusted to meet the requirements of different use occasions. It can be bent, drilled, deep-drawn and other processing. |
| Composite strength | ≥12N/mm |
| Composite rate | 100% |
| Tensile strength | 130-200Mpa, 90 degree bending without cracks |
| Elongation rate | 0-35% |
What is Bimetal?
Bimetal refers to an object that is composed of two separate metals joined together. Instead of being a mixture of two or more metals, like alloys, bimetallic objects consist of layers of different metals. Trimetal and tetrametal refer to objects composed of three and four separate metals respectively.
What is Aluminum Copper Bimetal?
Aluminum Copper Bimetal AND Copper Aluminum Bimetal is one and the same thing.
Copper Aluminum Bimetal consists of Copper (sheet metal) claded on pure Aluminum (Base metal) both metals being diffused together to form an inseparable whole by roll bonding process. Copper Aluminum Bimetal is therefore not an alloy and copper alloys are not electro plating but are rather mechanically welded to Aluminum sheets.
What is the process of Manufacturing Aluminum + Copper Bimetal?
Aluminium and Copper both metals being diffused together to form an inseparable whole by roll bonding process. It is mechanically welded on Aluminium with Copper sheets.
What does ROLL BONDING mean?
Roll bonding is a solid state, cold welding process, obtained through flat rolling of sheet metals. In roll bonding, two or more layers of different metals are passed through a pair of flat rollers under sufficient pressure to bond the layers. The pressure is high enough to deform the metals and reduce the combined thickness of the clad material. The mating surfaces must be previously prepared (scratched, cleaned, degreased) in order to increase their friction coefficient and remove any oxide layers. The process can be performed at room temperature or at warm conditions. In warm roll bonding, heat is applied to pre-heat the sheets just before rolling, in order to increase their ductility and improve the strength of the weld. The strength of the rolled bonds depends on the main process parameters, including the rolling conditions (entry temperature of the sheets, amount of thickness reduction, rolling speed, etc.), the pre-rolling treatment conditions (annealing temperature and time, surface preparation techniques, etc.) and the post-rolling heat treatments. The applications of roll bonding can be used for cladding of metal sheets, or as a sub-step of the accumulative roll bonding. Bonding of the sheets can be controlled by painting a pattern on one sheet; only the bare metal surfaces bond, and the un-bonded portion can be inflated if the sheet is heated and the coating vaporizes.
Applications
Automobiles
Communications
Electrical Appliances
Living Appliances
Power
Apparatus Construction
As Packing & Washers Bet Aluminium & Copper Bars
Bimetallic Clamp & Connectors
Building Decoration
Busbar Chambers
Bus-Ducts And Plug-In Busways
Cable Clamp
Cable End Connectors
Cable Lugs
Cable Thimbles In Copper
Circuit Breakers
Conductors With Aluminium Conductors
Cpu Heat Sink
Current Bars & Similar Parts
Distribution And Panel Boards
Electronics
Flexible Connectors
Heat Dissipation
Ic Heat Sink
Isolators
Motor Control Centers
Oil And Vacuum Circuit Breakers
On Overhead Lines
Overhead Busbar Trunking Systems
Overhead Connectors
Panelboards
Printed Circuit Boards(Pcb)
Safety Vent For Li-Ion Secondary Battery
Semiconductor Packages
Sleeve Shape Insert In Terminals In Copper &
Aluminium
Substation Accessories Like Bimetallic Clamp
And Connectors
Substation And Switch-Yard Bimetallic Clamps And Connectors
Switch Plant
Switchblades
Switchgears
Terminal Strips
Terminals Of Copper Connecting
We exports Aluminium Copper Bimetal worldwide
Get best quality Aluminium Copper Bimetal
We can help you to get best quality Aluminium Copper Bimetal as per your requirements.
Ontime delivery

Customization as per request

After sales Support

Best quality