We Are the Leading manufacturer & exporter of
Oil Dip Tape
We manufactures and exports high quality Oil Dip Tape worldwide. Learn more about our products.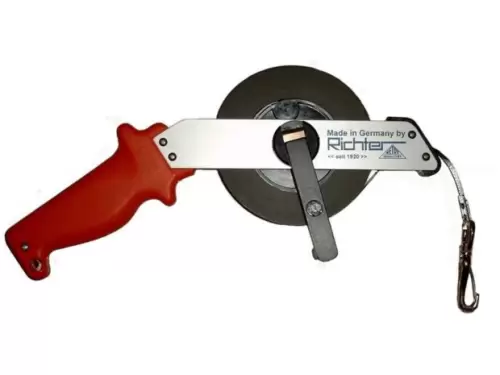 The Tapes, are graduated with raised markings, in mm on dark etched background which are supplied in various lengths from 10 metres to 30 metres and are fitted into a Brass winder with a Wooden handle, with an end-fitting for the required dip weight.
These oil dip tapes made of stainless steel and carbon steel in sizes 10m, 15m, 20m, 30m, 50m, 100m
with brass plumbob and custom made stainless steel bobs of various lengths.
Specification
| | |
| --- | --- |
| Application | Measuring Oil |
| Material | Stainless Steel |
| Length | 10m/33FT, 15m/50FT |
Supplied as standard with:
High Quality Brass Frame, with High Impact Wooden Handle.
Etched, Stainless Steel Tape
All IPM weights are connected using 498 Brass Hook & Knurled Locking Ring
To be added seperately, if required:
Weight.
'MSE' type frame with grounding cable and clip.
Calibration Certificate. 2 options; Factory Calibration Cert. or UKAS/NMO Calibration Cert. 1 Certificate is required per 1 Tape. Price is per certificate.
Conformity Certificate KON2. References the individual tape number in the certificate. Available per tape or per order showing all tape numbers on 1 certificate. Price is per certificate.
Features:
IPM Specification, Accuracy class I: +/- a + bL (a = 0,1 mm; b = 0,1 mm; L = length in m)
Verifiable, Factory Calibration Certificate, if required, is to be purchased seperately.
13 mm Wide, 0.2 mm Thick Hardened Stainless Steel Tape
464 Tape, Single Side Graduations
Brass or Stainless Steel Weights, 675 or 1500g (1.5 Lbs, or 3.5 Lbs), With Single Side Side Graduations - Connects to the tape by means of a Brass Hook & Knurled Locking Ring
Richter Dipping Tapes conform to the specifications contained in the Institute of Petroleum Measurement Manual Part II, and to the international standard ISO/FDIS 4512
Each tape and weight is marked with its appropriate IPM number
These standards cover every component in precise detail, including the brass dip weight, the bell type locking swivel hook, and the brass frame winder and wooden handle. They reflect the accumulated experience of users in the petrochemical industry over many years and have been adopted by the industry in most parts of the world.
The maximum permitted error for the tape/weight combination is 1.5mm for all lengths up to 30m
The tapes are graduated on one side only.
Metric graduations are in mm (IPM8)
Imperial graduations are in feet, inches and 10ths of inches (IPM7A), or available to special order only: feet, inches, and 1/16ths inches (IPM7B)
Etched stainless steel (grade 4021) for those applications which call for this tape material
Refills are available for when the tapes wear out
Reel & Tape Specification
| | | | | |
| --- | --- | --- | --- | --- |
| Part Number | Graduations | Frame Type | Length | Richter Brochure Page |
| FR-D-464MS/IPM8-10 | Single Side, Metric | MS - Brass | 10 m | 2.11 |
| FR-D-464MS/IPM8-15 | Single Side, Metric | MS - Brass | 15 m | 2.11 |
| FR-D-464MS/IPM8-20 | Single Side, Metric | MS - Brass | 20 m | 2.11 |
| FR-D-464MS/IPM8-25 | Single Side, Metric | MS - Brass | 25 m | 2.11 |
| FR-D-464MS/IPM8-30 | Single Side, Metric | MS - Brass | 30 m | 2.11 |
| FR-D-464MS/IPM8-50 | Single Side, Metric | MS - Brass | 50 m | 2.11 |
| FR-D-464MSE/IPM8-10 | Single Side, Metric | MSE - Brass with Grounding Cable & Clip | 10 m | 2.11 |
| FR-D-464MSE/IPM8-15 | Single Side, Metric | MSE - Brass with Grounding Cable & Clip | 15 m | 2.11 |
| FR-D-464MSE/IPM8-20 | Single Side, Metric | MSE - Brass with Grounding Cable & Clip | 20 m | 2.11 |
| FR-D-464MSE/IPM8-25 | Single Side, Metric | MSE - Brass with Grounding Cable & Clip | 25 m | 2.11 |
| FR-D-464MSE/IPM8-30 | Single Side, Metric | MSE - Brass with Grounding Cable & Clip | 30 m | 2.11 |
| FR-D-464MSE/IPM8-50 | Single Side, Metric | MSE - Brass with Grounding Cable & Clip | 50 m | 2.11 |
| FR-D-464MS/IPM7A-33 | Single Side, Imperial, 1/10ths | MS - Brass | 33 feet | 2.11 |
| FR-D-464MS/IPM7A-50 | Single Side, Imperial, 1/10ths | MS - Brass | 50 feet | 2.11 |
| FR-D-464MS/IPM7A-66 | Single Side, Imperial, 1/10ths | MS - Brass | 66 feet | 2.11 |
| FR-D-464MS/IPM7A-82 | Single Side, Imperial, 1/10ths | MS - Brass | 82 feet | 2.11 |
| FR-D-464MS/IPM7A-100 | Single Side, Imperial, 1/10ths | MS - Brass | 100 feet | 2.11 |
| FR-D-464MS/IPM7A-165 | Single Side, Imperial, 1/10ths | MS - Brass | 165 feet | 2.11 |
| FR-D-464MSE/IPM7A-33 | Single Side, Imperial, 1/10ths | MSE - Brass with Grounding Cable & Clip | 33 feet | 2.11 |
| FR-D-464MSE/IPM7A-50 | Single Side, Imperial, 1/10ths | MSE - Brass with Grounding Cable & Clip | 50 feet | 2.11 |
| FR-D-464MSE/IPM7A-66 | Single Side, Imperial, 1/10ths | MSE - Brass with Grounding Cable & Clip | 66 feet | 2.11 |
| FR-D-464MSE/IPM7A-82 | Single Side, Imperial, 1/10ths | MSE - Brass with Grounding Cable & Clip | 82 feet | 2.11 |
| FR-D-464MSE/IPM7A-100 | Single Side, Imperial, 1/10ths | MSE - Brass with Grounding Cable & Clip | 100 feet | 2.11 |
| FR-D-464MSE/IPM7A-165 | Single Side, Imperial, 1/10ths | MSE - Brass with Grounding Cable & Clip | 165 feet | 2.11 |
| FR-D-464MS/IPM7B-33 | Single Side, Imperial, 1/16ths | MS - Brass | 33 feet | 2.11 |
| FR-D-464MS/IPM7B-50 | Single Side, Imperial, 1/16ths | MS - Brass | 50 feet | 2.11 |
| FR-D-464MS/IPM7B-66 | Single Side, Imperial, 1/16ths | MS - Brass | 66 feet | 2.11 |
| FR-D-464MS/IPM7B-82 | Single Side, Imperial, 1/16ths | MS - Brass | 82 feet | 2.11 |
| FR-D-464MS/IPM7B-100 | Single Side, Imperial, 1/16ths | MS - Brass | 100 feet | 2.11 |
| FR-D-464MS/IPM7B-165 | Single Side, Imperial, 1/16ths | MS - Brass | 165 feet | 2.11 |
| FR-D-464MSE/IPM7B-33 | Single Side, Imperial, 1/16ths | MSE - Brass with Grounding Cable & Clip | 33 feet | 2.11 |
| FR-D-464MSE/IPM7B-50 | Single Side, Imperial, 1/16ths | MSE - Brass with Grounding Cable & Clip | 50 feet | 2.11 |
| FR-D-464MSE/IPM7B-66 | Single Side, Imperial, 1/16ths | MSE - Brass with Grounding Cable & Clip | 66 feet | 2.11 |
| FR-D-464MSE/IPM7B-82 | Single Side, Imperial, 1/16ths | MSE - Brass with Grounding Cable & Clip | 82 feet | 2.11 |
| FR-D-464MSE/IPM7B-100 | Single Side, Imperial, 1/16ths | MSE - Brass with Grounding Cable & Clip | 100 feet | 2.11 |
| FR-D-464MSE/IPM7B-165 | Single Side, Imperial, 1/16ths | MSE - Brass with Grounding Cable & Clip | 165 feet | 2.11 |
Refill Tape Specification
| | | | |
| --- | --- | --- | --- |
| Part Number | Graduations | Length | Richter Brochure Page |
| FR-D-464MSa/IPM8-10 | Single Side, Metric | 10 m | Not Featured |
| FR-D-464MSa/IPM8-15 | Single Side, Metric | 15 m | Not Featured |
| FR-D-464MSa/IPM8-20 | Single Side, Metric | 20 m | Not Featured |
| FR-D-464MSa/IPM8-25 | Single Side, Metric | 25 m | Not Featured |
| FR-D-464MSa/IPM8-30 | Single Side, Metric | 30 m | Not Featured |
| FR-D-464MSa/IPM8-50 | Single Side, Metric | 50 m | Not Featured |
| FR-D-464MSa/IPM7A-33 | Single Side, Imperial, 1/10ths | 33ft | Not Featured |
| FR-D-464MSa/IPM7A-50 | Single Side, Imperial, 1/10ths | 50 ft | Not Featured |
| FR-D-464MSa/IPM7A-66 | Single Side, Imperial, 1/10ths | 66 ft | Not Featured |
| FR-D-464MSa/IPM7A-82 | Single Side, Imperial, 1/10ths | 82 ft | Not Featured |
| FR-D-464MSa/IPM7A-100 | Single Side, Imperial, 1/10ths | 100 ft | Not Featured |
| FR-D-464MSa/IPM7A-1 | Single Side, Imperial, 1/10ths | 165 ft | Not Featured |
| FR-D-464MSa/IPM7B-33 | Single Side, Imperial, 1/16ths | 33ft | Not Featured |
| FR-D-464MSa/IPM7B-50 | Single Side, Imperial, 1/16ths | 50 ft | Not Featured |
| FR-D-464MSa/IPM7B-66 | Single Side, Imperial, 1/16ths | 66 ft | Not Featured |
| FR-D-464MSa/IPM7B-82 | Single Side, Imperial, 1/16ths | 82 ft | Not Featured |
| FR-D-464MSa/IPM7B-100 | Single Side, Imperial, 1/16ths | 100 ft | Not Featured |
| FR-D-464MSa/IPM7B-1 | Single Side, Imperial, 1/16ths | 165 ft | Not Featured |
Weight Specification
Weight Specification

| | | | | | | | |
| --- | --- | --- | --- | --- | --- | --- | --- |
| Part Number | Material | Weight | Graduations | Scale | Distance to top of eyelet | Diameter | Richter Brochure Page |
| FR-WEIGHT-B-IPM8 | Brass | 675 g | Single Side, Metric | mm | 152.4 mm | 30 mm | 2.11 |
| FR-WEIGHT-B-IPM7A | Brass | 1.5 lbs (675 g) | Single Side, Imperial | Inches, 10ths | 6 Inches | 1,1/4" (30 mm) | 2.11 |
| FR-WEIGHT-B-IPM7B | Brass | 1.5 lbs (675 g) | Single Side, Imperial | Inches, 16ths | 6 Inches | 1,1/4" (30 mm) | 2.11 |
| FR-WEIGHT-B-R-IPM8 | Stainless Steel | 675 g | Single Side, Metric | mm | 152.4 mm | 30 mm | 2.11 |
| FR-WEIGHT-B-R-IPM7A | Stainless Steel | 1.5 lbs (675 g) | Single Side, Imperial | Inches, 10ths | 6 Inches | 1,1/4" (30 mm) | 2.11 |
| FR-WEIGHT-B-R-IPM7B | Stainless Steel | 1.5 lbs (675 g) | Single Side, Imperial | Inches, 16ths | 6 Inches | 1,1/4" (30 mm) | 2.11 |
| FR-WEIGHT-W-IPM8 | Brass | 1500 g (3.5 lbs) | Single Side, Metric | mm | 152.4 mm | 30 mm | 2.11 |
| FR-WEIGHT-W-IPM7A | Brass | 3.5 lbs (1500 g) | Single Side, Imperial | Inches, 10ths | 6 Inches | 1,3/4" (45 mm) | 2.11 |
| FR-WEIGHT-W-IPM7B | Brass | 3.5 lbs (1500 g) | Single Side, Imperial | Inches, 16ths | 6 Inches | 1,3/4" (45 mm) | 2.11 |
Replacement Winders
| | |
| --- | --- |
| Part Number | Type |
| FR-EMPTY-F.W-30 | Empty Frame Winder, 30m Capacity |
| FR-EMPTY-F.W-50 | Empty Frame Winder, 50m Capacity |
| FR-EMPTY-F.W-MSE30 | Empty Frame Winder, 30m Capacity, with Grounding Cable & Clip |