Aluminium Alloy Flat Bar
We are manufacturer of Best quality Aluminium Alloy Flat Bar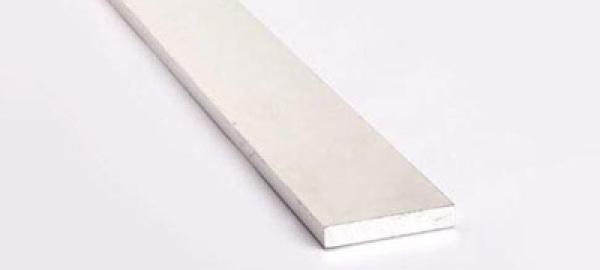 Metalfort Inc. is a leading manufacturer, supplier, and exporter of in India. We are known for quality products and larger stockist ability.
Aluminum 5754 flat bars are produced using a variety of chemical mixtures, including magnesium, silicon, iron, titanium, zinc, and copper. These bars stand out for their low weight, smooth polish, and well-defined edges. Both alloys offer good resistance to corrosion and make ideal choices for the majority of processing methods. We provide the option to "cut-to-size" all of our flat bars, which come in a standard length of 6 meters. Uses for aluminum flat bars are frequently found in :
Aluminium Flat Bar, ASTM B221 Aluminium Alloy Flat Bar, ASME SB221 Aluminium Flat Bars, Aluminium Flat Bar at Best Price in India, Aluminium Flat Bar 6mm Thick, Aluminum Flat Bar Suppliers in Mumbai, India.
• Shelves
• Brackets
• Bracing
• Trim
Aluminum Flat bars
made of the 7075 aluminum alloy have excellent corrosion resistance, good toughness, and high tensile strength. Aluminum 7075 flat bars are typically used in applications and industries like heat exchangers, condensers, petrochemicals, pharmaceuticals, chemical industry, automobiles, pulp & paper industry, power generation, oil & gas industry, offshore and marine, valve and pump components, marine hardware, and high strength fasteners, among others.
Aluminium Flat Rods, Aluminium Alloy Hot Finish Flat Bars, Aluminum Industrial Flat Bar, Aluminium Cold Drawn Flat Bar, Aluminium Alloy Flat Bars Price List, Aluminium Flat Bars Stockist, Aluminium Flat Bar Manufacturers, Aluminum Alloy Flat Bars Exporter in India.
Aluminium Flat Bar Price Per Kg, T6 Temper Aluminium Flat Bars, Aluminium Flat Bar Price, Aluminium CR Flat Bar, Aluminium Hot Rolled Flat Bar, Aluminium Cold Forming Flat Bars, Aluminium Flat Bar Weight Calculator, Aluminium Flat Bar Exporter in Mumbai, Aluminum T3 Flat Bar, Aluminium Flat Bar Price In India.
We offer architectural alloy and structural aluminum alloy flat bar extrusions., Aluminum 7075 Flat bars and rods are available from us in a variety of sizes, standards, and other specifications, and before being delivered to our valued customers, the products are produced utilizing premium raw materials and put through rigorous testing under the supervision of highly qualified engineers. We deliver alloy 7075 flat bars all over the world.
At the client's end, all products are created utilizing the finest raw materials, ensuring their durability and quality. Our professionals carefully check the assortments they purchase from the vendors for quality using several specific criteria that have been suggested by the industry.
ASTM B221 Aluminium Alloy Flat Bar Specification
Standards : ASTM B221, B211, B565, B316, ASME SB221, SB211, SB565, SB316
Temper : O, T3,T4, T6, T651
Size : 5 mm To 500 mm
Length : 100 mm To 3000 mm Long & Above, Random, Fix & Cut Length or as per clients' requirement
Finish : Mill, Customer specific finish
Coating : PVC Coated, Color Coated, Polyester, Fluorocarbon, polyurethane and epoxy coating
Type : Hot-Rolled (HR) / Cold-Rolled (CR) Flat Bar
Aluminium Alloy Flat Bars Standard Specification
ASTM B211/ASME SB211 - Specification for Aluminum and Aluminum-Alloy Rolled or Cold Finished Bar, Rod
ASTM B221/ASME SB221 - Specification for Aluminum and Aluminum-Alloy Extruded Bars, Rods
ASTM B565/ASME SB565 - Test Method for Shear Testing of Aluminum and Aluminum-Alloy Rivets and Cold-Heading Rods
ASTM B316/ASME SB316 - Standard Specification for Aluminum and Aluminum-Alloy Rivet and Cold-Heading bars and Rods
AMS 4102/ISO Al99.0Cu - Standard Specification for Aluminum and Aluminum-Alloy Cold / Hot Rolled Bars, Rods
Aluminum Alloy Flat Bar Size Chart
Size
Length
Weight
(lbs/ft)
1/8" x 3/4"
144.00"
0.110
1/8" x 1"
144.00"
0.147
1/8" x 1-1/4"
144.00"
0.180
1/8" x 1-1/2"
144.00"
0.220
1/8" x 2"
144.00"
0.294
1/8" x 2-1/2"
144.00"
0.367
1/8" x 3"
144.00"
0.441
3/16" x 1/2"
144.00"
0.111
3/16" x 3/4"
144.00"
0.165
3/16" x 1"
144.00"
0.221
3/16" x 1-1/4"
144.00"
0.276
3/16" x 1-1/2"
144.00"
0.331
3/16" x 2"
144.00"
0.441
3/16" x 2-1/2"
144.00"
0.551
3/16" x 3"
144.00"
0.662
3/16" x 4"
144.00"
0.882
1/4" x 3/8"
144.00"
0.110
1/4" x 1/2"
144.00"
0.151
1/4" x 3/4"
144.00"
0.220
1/4" x 1"
144.00"
0.294
Aluminum Alloy Flat Bar Weight Chart
Size in mm
Average Weight
KG/MTR
KG/FT
20 x 4
0.79
0.24
20 x 5
0.79
0.24
21 x 6
1.00
0.30
25 x 3
0.59
0.19
25 x 4
0.79
0.24
25 x 5
0.98
0.30
25 x 6
1.18
0.40
25 x 8
1.57
0.50
25 x 10
1.9
0.6
25 x 12
2.36
0.70
28 x 6
1.30
0.40
30 x 3
0.71
0.22
30 x 4.7
1.11
0.34
30 x 5
1.18
0.40
30 x 60
1.40
0.40
32 x 5
1.26
0.40
32 x 6
1.50
0.50
32 x 8
2
0.60
32 x 10
2.50
0.80
32 x 12
3
0.90
38 x 3
0.90
0.30
38 x 5
1.50
0.50
38 x 12
3.60
1.10
40 x 4
1.26
0.38
40 x 5
1.57
0.50
40 x 6
1.90
0.60
40 x 8
2.50
0.80
40 x 10
3.10
1.00
40 x 12
3.77
1.20
40 x 16
5.00
1.50
40 x 20
6.30
1.90
40 x 25
7.85
2.40
45 x 12
4.20
1.30
45 x 20
7.07
2.15
50 x 4
1.57
2.00
50 x 5
1.96
0.60
50 x 6
2.36
0.70
50 x 8
3.14
1.00
50 x 10
3.90
1.20
50 x 12
4.7
1.40
50 x 16
6.28
1.90
50 x 20
7.85
2.40
50 x 25
9.80
3.00
50 x 32
12.56
3.83
60 x 6
2.83
0.87
63 x 6
3
0.9
65 x 5
2.55
0.78
65 x 6
3.06
0.93
65 x 8
4.08
1.2
65 x 10
5.1
1.6
65 x 12
6.10
1.90
65 x 16
8.16
2.5
65 x 20
10.2
3.1
65 x 25
12.8
3.9
65 x 32
16.33
4.98
65 x 40
20.41
6.22
65 x 50
25.51
7.78
75 x 5
5.7
1.7
75 x 6
3.53
1.10
75 x 8
4.71
1.4
75 x 10
5.89
1.8
75 x 12
7.70
2.10
75 x 16
9.42
2.90
75 x 20
11.8
3.6
75 x 25
14.7
4.5
75 x 32
18.9
4.5
75 x 40
23.6
7.2
75 x 50
29.44
8.97
80 x 8
5.02
1.53
80 x 10
6.28
1.97
100 x 5
3.93
1.2
100 x 6
4.71
1.4
100 x 8
6.28
1.9
100 x 10
7.85
2.4
100 x 12
9.42
2.90
100 x 16
12.56
3.8
100 x 20
15.70
4.80
100 x 25
19.60
6.00
100 x 30
23.55
7.18
100 x 32
25.12
7.66
100 x 40
31.40
9.57
100 x 50
39.25
11.96
125 x 6
5.90
1.80
125 x 8
7.90
2.40
125 x 10
9.80
3.00
125 x 12
11.80
3.60
125 x 16
15.70
4.80
125 x 20
19.60
6.00
125 x 25
24.50
7.50
125 x 32
31.40
9.57
125 x 40
39.25
11.96
130 x 12
12.25
3.73
150 x 6
7.07
2.20
150 x 8
9.42
2.90
150 x 10
11.80
3.60
150 x 12
14.10
4.30
150 x 16
18.80
5.70
150 x 20
23.60
7.20
150 x 25
29.40
8.90
150 x 32
37.68
11.48
150 x 40
47.10
14.36
160 x 30
37.68
11.94
178 X 6
8.38
2.56
178 X 8
11.18
3.41
180 X 12
16.96
5.17
180 X 20
28.26
8.62
200 x 6
9.40
2.90
200 x 8
12.56
3.80
200 x 10
15.70
4.80
200 x 12
18.80
5.70
200 x 16
25.10
7.70
200 x 20
31.40
9.60
200 x 25
39.20
12
250 x 6
11.80
3.60
250 x 8
15.70
4.80
250 x 10
19.60
6.00
250 x 12
23.60
7.20
250 x 16
31.40
9.60
250 x 20
39.20
12.00
250 x 25
49.10
15.00
300 x 6
14.10
4.30
300 x 8
18.80
5.80
300 x 10
23.55
7.20
300 x 12
28.30
8.60
300 x 16
37.70
11.50