Aluminium Bus Bar
We are manufacturer of Best quality Aluminium Bus Bar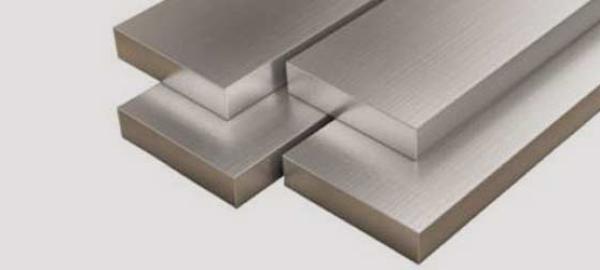 Metalfort Inc. is India's leading manufacturer and supplier of .
It is a very malleable substance that can be used in a variety of ways. This material is the best whether flat panels or shapes are required. Different pieces can be easily created using the extrusion method in quick, low-cost procedures. Aluminum conducts at a lesser rate than copper. We frequently suggest increasing the surface area to allow for heat dissipation. This results in improved heat exchange for more effective thermal dissipation. For the same material cross-section, aluminum does indeed have a lower tensile strength (by 37%) than copper. The bigger cross-section of aluminum approaches the tensile strength of copper for a certain ampacity, however, grade 6101 aluminum requires a cross-section that is approximately 66 percent greater than what would be needed for a copper conductor to carry the same amount of current.
7050 Electrical Aluminium Bus Bar, Flexible Aluminium Busbar, Aluminium 6083 Flat Busbar, Jindal Aluminium Bus Bars, Aluminum Bus Bar Suppliers in Mumbai, India.
Aluminum is always regarded as a highly tailored option and it frequently provides features that are highly valued:
• Compact Design
• Nature's Corrosion Resistance
• Thermal and Electrical Conductivity
• Strength in Cold Conditions
• Not magnetic
Where heat can be quickly dispersed,
aluminum bus bars
are frequently used as electrical conductors in power distribution systems. The low price of the metal makes it potentially the most cost-effective choice for the application. Creating a bigger surface area is frequently advised to account for heat dissipation. This results in improved heat transfer for more effective thermal dissipation
Hindalco Aluminum Busbar, EC Grade 6063 Aluminium Busbar, Aluminium H20 Battery Bus Bar, Flat Aluminium 6061 Busbar Standard Sizes, Aluminium 6351 Square Bus Bar, Aluminum Alloy 2017 Bus Bars Exporter in India.
Aluminium H9 Laminated Bus Bar, Aluminum Low Voltage Bus Bars for Switchgear, Aluminium 6063 Flexible Insulated Bus Bar, Aluminium Circuit Board Stiffeners, 7075 Aluminum Bus Bar Price In India.
Aluminium Flat Bus Bars> provide comprehensive design skills that encompass plating and powder coating services in addition to machining, forming, brazing, and welding procedures. We create cutting-edge designs for lightweight, high-performance aluminum bus bars, which results in lower labor costs for installation and support.
Aluminium Bus Bar Specification
Surface Finish : Smooth and Bright
Usage/Application : Electrical Panel Boards
Aluminium Alloy Bus Bar Standard Specification
ASTM B211/ASME SB211 - Specification for Aluminum and Aluminum-Alloy Rolled or Cold Finished Bar, Rod
ASTM B221/ASME SB221 - Specification for Aluminum and Aluminum-Alloy Extruded Bars, Rods
ASTM B565/ASME SB565 - Test Method for Shear Testing of Aluminum and Aluminum-Alloy Rivets and Cold-Heading Rods
ASTM B316/ASME SB316 - Standard Specification for Aluminum and Aluminum-Alloy Rivet and Cold-Heading bars and Rods
AMS 4102/ISO Al99.0Cu - Standard Specification for Aluminum and Aluminum-Alloy Cold / Hot Rolled Bars, Rods
Aluminium Bus Bar Physical Properties
| | |
| --- | --- |
| Physical Property | Value |
| Density | 2.82 g/cm³ |
| Melting Point | 535 °C |
| Modulus of Elasticity | 71 GPa |
| Electrical Resistivity | 0.045 x10^-6 Ω .m |
| Thermal Conductivity | 138 W/m.K |
| Thermal Expansion | 23 x10^-6 /K |
Standard Specification of Aluminium Bus Bar
Specification
Alloy
Temper
Company
Europe
EN 2089/2395
2017
T6(T62)/T4(T42)
EN 2087/2088
2017 clad
T6(T62)/T4(T42)
France
AIR 9048.010/.030/
2017
F(T42)/F(T62)/T4/
.020/.040/.050
2017
T6/T451
AIR 9048.060/.080/.070/.090
2017 clad
F(T42)/F(T62)/T4/T6
Germany
W.-Nr. 3.1254
2017
T4, T6
W.-Nr. 3.1354
2024
O(T42), T3
United Kingdom
BS L156/157/158*/159*
2017
158*/159*
2017 clad
(T42)(T62)
BAE Systems
BS L163/164/165
2017 clad
T3/F(T42), T4/T6
BS L166*/167*
2017 clad
F(T42), T4/T6
USA
AMS QQ-A-250/3
2017 clad
O, T4, T6
Weight Chart of Aluminium Bus Bar
| | | |
| --- | --- | --- |
| Product | Diameter | Weight |
| Aluminium Bus Bar | 6 mm | 0,076 Kg/m |
| 2017 Aluminium Bus Bar | 7 mm | 0,104 Kg/m |
| 2017 Aluminium Bus Bar | 8 mm | 0,136 Kg/m |
| 2017 Aluminium Bus Bar | 9 mm | 0,172 Kg/m |
| 2017 Aluminium Bus Bar | 9,5 mm | 0,191 Kg/m |
| 2017 Aluminium Bus Bar | 10 mm | 0,212 Kg/m |
| 2017 Aluminium Bus Bar | 11 mm | 0,257 Kg/m |
| 2017 Aluminium Bus Bar | 12 mm | 0,305 Kg/m |
| 2017 Aluminium Bus Bar | 12,5 mm | 0,331 Kg/m |
| 2017 Aluminium Bus Bar | 13 mm | 0,358 Kg/m |
| 2017 Aluminium Bus Bar | 14 mm | 0,416 Kg/m |
| 2017 Aluminium Bus Bar | 16 mm | 0,543 Kg/m |
| 2017 Aluminium Bus Bar | 16,5 mm | 0,577 Kg/m |
| 2017 Aluminium Bus Bar | 18 mm | 0,687 Kg/m |
| 2017 Aluminium Bus Bar | 19 mm | 0,766 Kg/m |
| 2017 Aluminium Bus Bar | 20 mm | 0,848 Kg/m |
| 2017 Aluminium Bus Bar | 22 mm | 1,026 Kg/m |
| 2017 Aluminium Bus Bar | 25 mm | 1,325 Kg/m |
| 2017 Aluminium Bus Bar | 28 mm | 1,663 Kg/m |
| 2017 Aluminium Bus Bar | 30 mm | 1,909 Kg/m |
| 2017 Aluminium Bus Bar | 31 mm | 2,038 Kg/m |
| 2017 Aluminium Bus Bar | 32 mm | 2,171 Kg/m |
| 2017 Aluminium Bus Bar | 35 mm | 2,598 Kg/m |
| 2017 Aluminium Bus Bar | 38 mm | 3,062 Kg/m |
| 2017 Aluminium Bus Bar | 40 mm | 3,393 Kg/m |
| 2017 Aluminium Bus Bar | 45 mm | 4,294 Kg/m |
| 2017 Aluminium Bus Bar | 50 mm | 5,301 Kg/m |
| 2017 Aluminium Bus Bar | 55 mm | 6,415 Kg/m |
| 2017 Aluminium Bus Bar | 60 mm | 7,634 Kg/m |
| 2017 Aluminium Bus Bar | 65 mm | 8,959 Kg/m |
| 2017 Aluminium Bus Bar | 70 mm | 10,391 Kg/m |
| 2017 Aluminium Bus Bar | 75 mm | 11,928 Kg/m |
| 2017 Aluminium Bus Bar | 80 mm | 13,572 Kg/m |
| 2017 Aluminium Bus Bar | 90 mm | 17,177 Kg/m |
| 2017 Aluminium Bus Bar | 100 mm | 21,206 Kg/m |
| 2017 Aluminium Bus Bar | 105 mm | 23,379 Kg/m |
| 2017 Aluminium Bus Bar | 110 mm | 25,659 Kg/m |
| 2017 Aluminium Bus Bar | 120 mm | 30,536 Kg/m |
| 2017 Aluminium Bus Bar | 127 mm | 34,203 Kg/m |
| 2017 Aluminium Bus Bar | 130 mm | 35,838 Kg/m |
| 2017 Aluminium Bus Bar | 140 mm | 41,563 Kg/m |
| 2017 Aluminium Bus Bar | 150 mm | 47,713 Kg/m |
| 2017 Aluminium Bus Bar | 180 mm | 68,707 Kg/m |
| 2017 Aluminium Bus Bar | 200 mm | 84,823 Kg/m |