Aluminium Wire
We are manufacturer of Best quality Aluminium Wire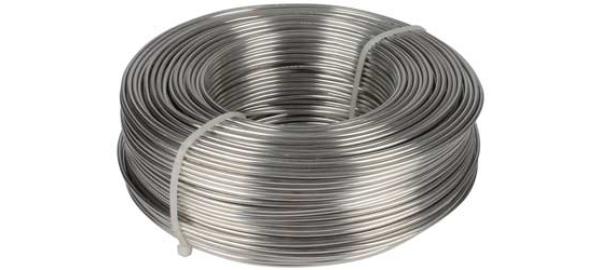 Metalfort Inc. is an authorized supplier and manufacturer of . With extensive knowledge and experience in this field.
The main alloying ingredient, magnesium, is added to the alloy 5056 to boost its initial tensile strength. Heat-treatable alloy Alloy 6061 is offered in annealed or strain-hardened tempers.
Aluminium Alloy 2024 Wires, Aluminum 6061 Wires, Aluminium Alloy 6082 Continuous Coil Wire, Al 7075 Wires, E-Al99.5 Wires, Aluminium Wire Supplier in Mumbai, India.
When conductivity requirements are high, supports are close together, and spacing is limited, aluminum cables are typically employed in urban settings. Aluminum wire is constructed from different strands of aluminum wire that are organized according to their intended use. Aluminum cables with flexible/stranded conductors are created with the strictest quality control to guarantee complete safety, eliminate shock dangers, reduce the likelihood of fires, and fully provide a perfect system. Due to their high degree of corrosion resistance and employment as overhead conductors for distribution lines, aluminum cables are widely used in coastal locations.
Aluminum Winding Wire, H14 Aluminium Wires, Aluminium Alloy 2017 Industrial Wires, ASTM B211 Aluminum 6082 Wires, Aluminium Wire Supplier Exporter in India.
Aluminium Plated 7075 Wires, BS 1E Wires, ASME SB221 Aluminium Alloy Wires, 5251 Aluminium Wire, Aluminium 1100 Galvanised Wires, Aluminium Coil Wire, Aluminium Wire Bobbin, ASTM B221 Aluminium Cold Rolled Wires, Aluminum Export Quality Wires In India.
To produce aluminum wires of the highest caliber, we are working with a team of skilled and qualified engineers. These wires are created with the highest grade raw materials, which are obtained from the most prestigious vendors in the market, and are the strongest available. By making the aluminum metal more ductile, we can create wires out of it. These have a great deal of capacity to support huge loads. Our team created these by considering their ability to withstand high voltages. These are covered with the highest quality material, shielding the wire from moisture and other atmospheric contaminants.
In addition, we deliver goods to customers all over the world within a week of their orders due to our efficient and secure logistic services. You can speak with our service team if you need assistance picking bars. Our personnel can help you only if you explain the application criteria to them.
Aluminium Wire Specification
Standards : ASTM B221, B211
Temper : H14
Diameter : 5.5 - 400 mm
Length : 10 - 10000 mtr
Form : Shaped, Flat, Square, Round, Fine Wire, Plated and Un-plated Wire, Continuous Coils, Cut to lengths, Precision cutting Etc
Treatment : Cold Forming, Heat Treatment, Stress Relieving and Welding
Aluminium Alloy Wire Standard Specification
ASTM B211/ASME SB211 - Specification for Aluminum and Aluminum-Alloy Rolled or Cold Finished Wire
ASTM B221/ASME SB221 - Specification for Aluminum and Aluminum-Alloy Extruded Wires
ASTM B565/ASME SB565 - Test Method for Shear Testing of Aluminum and Aluminum-Alloy Rivets and Cold-Heading Wires
ASTM B316/ASME SB316 - Standard Specification for Aluminum and Aluminum-Alloy Rivet and Cold-Heading Wires
AMS 4102/ISO Al99.0Cu - Standard Specification for Aluminum and Aluminum-Alloy Cold / Hot Rolled Wires
Aluminium Wire Physical Properties
| | |
| --- | --- |
| Physical Property | Value |
| Density | 2.82 g/cm³ |
| Melting Point | 535 °C |
| Modulus of Elasticity | 71 GPa |
| Electrical Resistivity | 0.045 x10^-6 Ω .m |
| Thermal Conductivity | 138 W/m.K |
| Thermal Expansion | 23 x10^-6 /K |
Standard Specification of Aluminium Wire
Specification
Alloy
Temper
Company
Europe
EN 2089/2395
2017
T6(T62)/T4(T42)
EN 2087/2088
2017 clad
T6(T62)/T4(T42)
France
AIR 9048.010/.030/
2017
F(T42)/F(T62)/T4/
.020/.040/.050
2017
T6/T451
AIR 9048.060/.080/.070/.090
2017 clad
F(T42)/F(T62)/T4/T6
Germany
W.-Nr. 3.1254
2017
T4, T6
W.-Nr. 3.1354
2024
O(T42), T3
United Kingdom
BS L156/157/158*/159*
2017
158*/159*
2017 clad
(T42)(T62)
BAE Systems
BS L163/164/165
2017 clad
T3/F(T42), T4/T6
BS L166*/167*
2017 clad
F(T42), T4/T6
USA
AMS QQ-A-250/3
2017 clad
O, T4, T6
Weight Chart of Aluminium Wire
| | | |
| --- | --- | --- |
| Product | Diameter | Weight |
| Aluminium Wire | 6 mm | 0,076 Kg/m |
| Aluminium Wire | 7 mm | 0,104 Kg/m |
| Aluminium Wire | 8 mm | 0,136 Kg/m |
| Aluminium Wire | 9 mm | 0,172 Kg/m |
| Aluminium Wire | 9,5 mm | 0,191 Kg/m |
| Aluminium Wire | 10 mm | 0,212 Kg/m |
| Aluminium Wire | 11 mm | 0,257 Kg/m |
| Aluminium Wire | 12 mm | 0,305 Kg/m |
| Aluminium Wire | 12,5 mm | 0,331 Kg/m |
| Aluminium Wire | 13 mm | 0,358 Kg/m |
| Aluminium Wire | 14 mm | 0,416 Kg/m |
| Aluminium Wire | 16 mm | 0,543 Kg/m |
| Aluminium Wire | 16,5 mm | 0,577 Kg/m |
| Aluminium Wire | 18 mm | 0,687 Kg/m |
| Aluminium Wire | 19 mm | 0,766 Kg/m |
| Aluminium Wire | 20 mm | 0,848 Kg/m |
| Aluminium Wire | 22 mm | 1,026 Kg/m |
| Aluminium Wire | 25 mm | 1,325 Kg/m |
| Aluminium Wire | 28 mm | 1,663 Kg/m |
| Aluminium Wire | 30 mm | 1,909 Kg/m |
| Aluminium Wire | 31 mm | 2,038 Kg/m |
| Aluminium Wire | 32 mm | 2,171 Kg/m |
| Aluminium Wire | 35 mm | 2,598 Kg/m |
| Aluminium Wire | 38 mm | 3,062 Kg/m |
| Aluminium Wire | 40 mm | 3,393 Kg/m |
| Aluminium Wire | 45 mm | 4,294 Kg/m |
| Aluminium Wire | 50 mm | 5,301 Kg/m |
| Aluminium Wire | 55 mm | 6,415 Kg/m |
| Aluminium Wire | 60 mm | 7,634 Kg/m |
| Aluminium Wire | 65 mm | 8,959 Kg/m |
| Aluminium Wire | 70 mm | 10,391 Kg/m |
| Aluminium Wire | 75 mm | 11,928 Kg/m |
| Aluminium Wire | 80 mm | 13,572 Kg/m |
| Aluminium Wire | 90 mm | 17,177 Kg/m |
| Aluminium Wire | 100 mm | 21,206 Kg/m |
| Aluminium Wire | 105 mm | 23,379 Kg/m |
| Aluminium Wire | 110 mm | 25,659 Kg/m |
| Aluminium Wire | 120 mm | 30,536 Kg/m |
| Aluminium Wire | 127 mm | 34,203 Kg/m |
| Aluminium Wire | 130 mm | 35,838 Kg/m |
| Aluminium Wire | 140 mm | 41,563 Kg/m |
| Aluminium Wire | 150 mm | 47,713 Kg/m |
| Aluminium Wire | 180 mm | 68,707 Kg/m |
| Aluminium Wire | 200 mm | 84,823 Kg/m |