We Are the Leading manufacturer & exporter of
MuMetal
We manufactures and exports high quality MuMetal worldwide. Learn more about our products.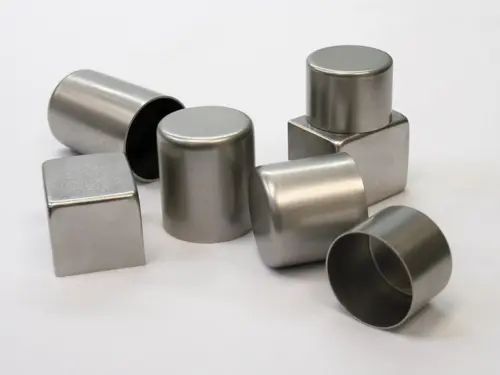 mumetal is a soft ferromagnetic material that does not retain a macroscopic internal field after the removal of an external magnetizing field. Meeting ASTM A753 Alloy Type 4, and MIL-N-14411 Composition 1, mumetal is the material of choice when seeking out the best high permeability magnetic shielding alloy for a magnetic shield that demands a permeability value of 250,000+. METALFORT has become the worldwide industry leader of custom mumetal magnetic shielding. Whether it's 1,000,000 simple magnetic shields that you can fit in the palm of your hand, or a mumetal enclosure that a fully grown human can fit inside of, METALFORT can produce it.
Where is MuMetal used?
Mu metal has been being used by metal producers, suppliers, engineers, scientists and others for many decades as an industrial standard product. Mumetal is used in a low frequency magnetic shielding design, calculation, assessment, production and supply. It is widely produced in stress annealed form that permits further production, stamping or welding. Subsequent to fabrication, grains structure is enhanced by perfection annealing to remove stress in the material hence providing bigger grain structure, softer temper and ultimate shielding properties.
The ultimate annealing is a crucial finishing procedure for the maximum attenuation of field lines.
Mu-metal is used to shield equipment from magnetic fields. For example:
Electric power transformers, which are built with mu-metal shells to prevent them from affecting nearby circuitry
Hard disks, which have mu-metal backings to the magnets found in the drive to keep the magnetic field away from the disk.
Cathode-ray tubes used in analogue oscilloscopes, which have mu-metal shields to prevent stray magnetic fields from deflecting the electron beam.
Magnetic phonograph cartridges, which have a mu-metal case to reduce interference when LPs are played back.
Magnetic resonance imaging (MRI) equipment.
The magnetometers used in magnetoencephalography and magnetocardiography.
Photomultiplier tubes.
Vacuum chambers for experiments with low-energy electrons, for example, photoelectron spectroscopy.
Superconducting circuits and especially Josephson junction circuits.
Fluxgate magnetometers and compasses as part of the sensor.
Proximity sensors (inductive type)
In what form Mu-Metal is available?
Round Bar, Plate, Pipe, Foil, Rod, Sheet, Circles, Customised Size
What are Different Names For FeNi80?
Mu Metal, HYMU 80, FeNi80
What are the Applications of MuMetal?
It may not be obvious, but you'd be surprised at just how many items you use day to day, or may come across in the span of your lifetime that has mumetal magnetic shielding manufactured within them. As we continue to operate as a society that relies on technology and electronics on a daily basis, the need to shield the electromagnetic interference emitting from that vast pool of devices, or protecting these sensitive electronics from outside forces is vital.
Have you ever been in medical facility? Well, if you have you were (unknowingly) surrounded by mumetal magnetic shields. Within state-of-the-art MRI systems to small disposable parts, mumetal is in a broad spectrum of medical devices and accessories.
Have you ever walked through a security scanner at the airport? You just walked between a mumetal magnetic shielding product.
Do you work in the military or are you interested in the advancement of our armed forces? METALFORT has produced mumetal magnetic shields for hundreds of different defense applications that help keep our country safe.
Do you navigate in your daily life through GPS systems? Without magnetic shielding this technology would be inaccurate.
At METALFORT, we take great care in producing mumetal magnetic shields for our customers. We understand how imperative these magnetic shields are to our customers' applications working properly during testing and in the field. To save customers time and money, we produce magnetic shields that work right the first time.
Industries we serve include (but are not limited to):
Aerospace
Medical Devices
Military
Utilities
Petroleum Exploration
GPS Communications
If you require magnetic shielding as a part of any project you're about to undertake, feel free to contact us today on enquiry@metalfort.in to learn how we can help facilitate a custom plan that advances your unique magnetic shield needs.
Features of MU Metal?
1. Extremely high magnetic permeability
2. Small coercive force and nominal core losses
3. Full shielding from EMI and RFI.
MATERIALS PER SPEC ASTM A753 Can be offered in the following forms
Sheets start at either 24" or 30" wide (based on availability) x 120" long. We have the capabilities to cut your custom blank size.
Sheet Thicknesses available .010" .014" .020" .025" .030" .040" .050" .062" .125" Custom thicknesses available upon request.
Coils start at either 12" or 15" wide (based on availability), can be slit to your custom width upon request and can be cut to whatever length you require.
Coil Thicknesses In Stock .002" .004" .006" .010" .014"
Seamless Tubing (mumetal lAW ASTM A753 Alloy Type 3) Diameters and lengths based on your custom needs. Please contact sales for pricing.
Round Bar Standard Diameters available .250" .500" 1.00" 1.50" 1.88" Custom Diameters available upon request. Please contact sales for pricing.
Flat Bar Custom Dimensions available upon request. Please contact sales for pricing.
Wire Custom Diameters available upon request. Please contact sales for pricing.
We exports MuMetal worldwide
Get best quality MuMetal
We can help you to get best quality MuMetal as per your requirements.
Ontime delivery

Customization as per request

After sales Support

Best quality