Aluminium Alloy Square Bar
We are manufacturer of Best quality Aluminium Alloy Square Bar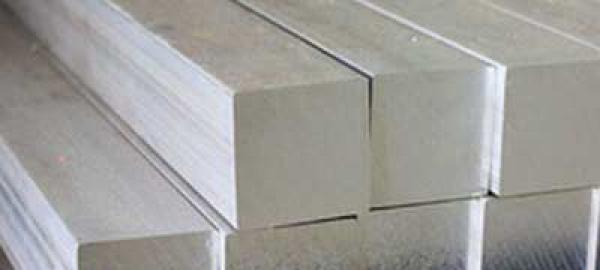 Metalfort Inc.s is a reputable stockist and manufacturer of , which are used in different applications. We import premium quality materials from reliable traders for high-quality bars. The product is well-known in the market for its ability to carry heavy loads with ease, high tensile strength, longevity, flexibility, low maintenance, and dimensional accuracy and sturdiness.
This alloy's chemical composition includes metals including zinc, copper, silicon, manganese, magnesium, titanium, chromium, and aluminum. They are also included because silicon and magnesium are the 6000 series' next two most vital components after aluminum. They have excellent anti-rusting qualities since they include chromium.
Aluminium Square Bar, Aluminium Alloy Square Rods, Aluminium T6 Square Bar, 5mm Aluminium Square Bar, ASTM B221 Aluminium Alloy Square Bar, Aluminium Alloy Square Bars, ASME SB221 Aluminium Alloy Square Bars, Al Square Bar at Best Price in India, Aluminum Square Bar Suppliers in Mumbai, India.
Square aluminum bars are all-purpose extrusions that have a wide range of applications. Our Square Bars are available in alloy grade 6082 T6, a high-strength alloy also referred to as a "structural alloy" in the metals sector. This material is excellent for both welding and machining, and it has exceptional corrosion resistance, making it perfect for outdoor use. Our aluminum square bars are available in a basic length of 5 meters with the option to be "cut to size." Aluminum square bars are frequently used for the following purposes:
• Balustrades, posts, and rails
• Road directional signs
• Trucks and trailers
• Frames and structural fabrications
Aluminum Industrial Square Bar, Aluminium Alloy Square Bars Price List, Aluminium Square Rods, Aluminium Square Bars Stockist, Aluminium Alloy Hot Finish Square Bars, Aluminium Cold Drawn Square Bar, Aluminum Alloy Square Bars Exporter in India.
Aluminium Alloy CR Square Bar, Aluminium Square Bar Exporter in Mumbai, Aluminium Alloy Square Bar Weight Calculator, Aluminium Hot Rolled Square Bar, Aluminium Alloy Square Bar Price Per Kg, Aluminium Cold Forming Square Bars, Aluminium Square Bar Price, T6 Temper Aluminium Square Bars, Aluminium Alloy Square Bar Price In India.
Aluminium Square Bars To determine the quality of these square bars, probably some tests and inspections are conducted. The tests include a macro-and micro-test, a destructive test, a flare test, a flattening test, a third-party inspection, a test for pitting resistance, and a hydrostatic test. All of these tests are conducted by the rules and legislation that apply to the sector, under the careful observation of experts. Final packaging and delivery to the clients of the aluminum alloy 6061 square bar.
ASTM B221 Aluminium Alloy Square Bar Specification
Standards : ASTM B221, B211, B565, B316, ASME SB221, SB211, SB565, SB316
Temper : T3, T4, T5, T6, T651, T6511
Size : 1000-6000
Length :100 mm To 3000 mm Long & Above
Surface : Bright, polished, hair line, brush, sand blast, checkered, embossed, etching, etc.
Finish : Mill, Customer specific finish
Coating : PVC Coated, Color Coated, Polyester, Fluorocarbon, polyurethane and epoxy coating
Type : Hot-Rolled (HR) / Cold-Rolled (CR) Square Bar
Aluminium Alloy Square Bars Standard Specification
ASTM B211/ASME SB211 - Specification for Aluminum and Aluminum-Alloy Rolled or Cold Finished Bar, Rod
ASTM B221/ASME SB221 - Specification for Aluminum and Aluminum-Alloy Extruded Bars, Rods
ASTM B565/ASME SB565 - Test Method for Shear Testing of Aluminum and Aluminum-Alloy Rivets and Cold-Heading Rods
ASTM B316/ASME SB316 - Standard Specification for Aluminum and Aluminum-Alloy Rivet and Cold-Heading bars and Rods
AMS 4102/ISO Al99.0Cu - Standard Specification for Aluminum and Aluminum-Alloy Cold / Hot Rolled Bars, Rods
Aluminum Alloy Square Bar Size Chart
Size
Length
Weight
(lbs/ft)
1/4"
144.00"
0.074
3/8"
144.00"
0.170
1/2"
144.00"
0.294
5/8"
144.00"
0.459
3/4"
144.00"
0.662
7/8"
144.00"
0.901
1"
144.00"
1.176
1-1/4"
144.00"
1.838
1-1/2"
144.00"
2.646
1-5/8"
144.00"
3.600
1-3/4"
144.00"
3.600
2"
144.00"
4.704
2-1/4"
144.00"
5.954
2-1/2"
144.00"
7.350
2-3/4"
144.00"
8.900
3"
144.00"
10.580
3-1/4"
144.00"
12.495
3-1/2"
144.00"
14.775
4"
144.00"
18.816
4-1/2"
144.00"
23.810
5"
144.00"
29.400
6"
144.00"
42.340
Aluminum Alloy Square Bar Weight Chart
| | | |
| --- | --- | --- |
| Size(mm) | WT PER FEET IN KGS | WT PER MTR IN KGS |
| 16 | 0.62 | 2.05 |
| 18 | 0.79 | 2.59 |
| 20 | 0.76 | 2.49 |
| 22 | 1.18 | 3.87 |
| 25 | 1.52 | 5.00 |
| 28 | 1.91 | 6.27 |
| 30 | 2.19 | 7.20 |
| 32 | 2.50 | 8.19 |
| 36 | 3.16 | 10.37 |
| 38 | 3.52 | 11.55 |
| 40 | 3.90 | 12.80 |
| 45 | 4.94 | 16.20 |
| 50 | 6.10 | 20.00 |
| 56 | 7.65 | 25.08 |
| 60 | - | - |
| 65 | - | - |
| 70 | - | - |
| 75 | - | - |
| 80 | - | - |
| 90 | - | - |
| 100 | - | - |