Aluminium Alloy Circles
We are manufacturer of Best quality Aluminium Alloy Circles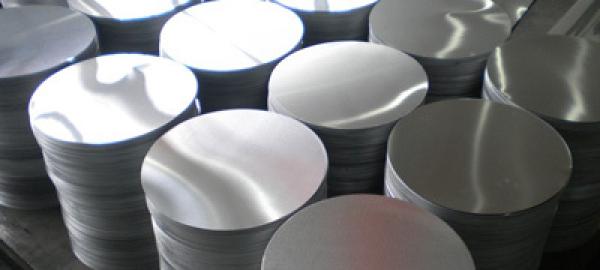 Metalfort Inc. is a prominent Manufacturer, Supplier, and Stockiest of Aluminium alloy is used to create these Aluminium 2014 circles, which are blended with other metals such as Zinc, Silicon, Copper, Tin, and Manganese. Aluminium 2014 Circle is light in weight and has excellent corrosion resistance in all types of hazardous environments. It also protects against acidic environments. These 2014 circles feature excellent toughness, strength, weldability, machinability, malleability, and a variety of other outstanding characteristics. This alloy can also tolerate a wide range of temperatures, from mild to high, in a variety of situations. Due to its structure, Alloy 2014 circular has excellent formability and is slip-resistant.
ASME SB209 Aluminium 2014 Circle, Aluminium 2014 Circles at Best Price in India, 2014 Aluminum Circles, UNS A92014 Circle, ASTM B209 Aluminium Alloy 2014 Circles, Aluminium 3.1255 Circles, 200 MM Aluminium 2014 Circles, 2014 Aluminum Discs, Aluminum Alloy 2014 Circles, Aluminum 2014 Circles Suppliers in Mumbai, India.
Aluminium 2014 Circles Cookware, electronics, everyday chemicals, medicine, auto parts, spaceships, ships, panning, Moulding, priting, domestic utensils, light covers, and so on are just a few of the applications for aluminium circles. It is frequently utilized in transportation, including airplanes, automobiles, and ships, due to its low density and lightweight. A vast number of aluminium circles and aluminium alloys are also used in high-end sectors like spaceships and satellites. Because of its strong resistance, aluminium 2014 Circle is used for a variety of purposes. Many industries employ Alloy 2014 Circle for a variety of purposes, including the manufacture of machine parts, airplanes, military vehicles, bridges, and aerospace.
Aluminium 2014 CR Circles, Aluminum 2014 Circle Ring, Aluminium 2014 Circles Manufacturers, Aluminium 2014 Circle 9MM, Aluminium 2014 Circle Stockist, 2014 Aluminium Hot Rolled Circles, Grade 2014 Aluminium Alloy Circles, 2014 Aluminum Circles Manufacturer from Mumbai, Aluminum Alloy 2014 Circle Exporter in India.
Aluminium 2014 Circles Exporter in Mumbai, T6 Temper Aluminium 2014 Circle, 2014 Aluminium HR Circle, Aluminium 2014 Proof Machined Circles, 2014 Aluminium Round Disc, Aluminium 2014 Circles Price, Aluminium 2014 Cold Rolled Circle Manufacturer, Aluminium 2014 Circles Price Per Kg, Aluminum 2014 Circles Suppliers, 2014 Aluminum Circles Manufacturer from Mumbai.
Second, it is highly electrically conductive. Although it has a lower conductivity than gold, silver, or copper, it has a big reserve and a density that is one-third that of copper. As a result, the quality of aluminium is only half that of copper when the same quantity of electricity is transmitted. Furthermore, because aluminum's surface oxide film possesses both corrosion resistance and certain insulating capabilities, aluminium circles have a wide range of uses in the electrical appliance manufacturing, wire and cable, and radio industries. Metalfort Inc. is a large-scale manufacturer of aluminium circles for 2014. We offer the highest quality 2014 Aluminum circles at the most competitive pricing.
Aluminium Alloy 2014 Circles Equivalent Grades
| | | | | | | | | |
| --- | --- | --- | --- | --- | --- | --- | --- | --- |
| European Standard | BS (OLD) | WNr | UNS | ISO | USA (AA) | GERMANY (DIN) | IS | Canadian |
| EN AW-2014 | HE15 | 3.1255 | A92014 | AlCu4SiMg | 2014 | AlCuSiMn | 24345 | B26S |
ASTM B209 Aluminium Alloy 2014 Circles Specification
Standards : ASTM B209 / ASME SB209
Temper : O, T3,T4, T6, T651
Thickness : 8 mm to 500 mm
Diameter : 200 mm to 1400 mm/p>
Circle Diameter :3" DIA up to 38" DIA 1500 lbs max
Finish : Mill, Customer specific finish
Type : Hot-Rolled (HR) / Cold-Rolled (CR) Circles
Aluminium Alloy 2014 Circle Standard Specification
ASTM B209 - Standard Specification for Aluminum and Aluminum-Alloy Circle
ASTM B632 / B632M - Standard Specification for Aluminum-Alloy Rolled Tread Circle
ASTM B947 - Standard Practice for Hot Rolling Mill Solution Heat Treatment for Aluminum Alloy Circle
ASTM B548 - Standard Test Method for Ultrasonic Inspection of Aluminum-Alloy Circle for Pressure Vessels
AMS 4001 - Aluminum Circles, 0.12Cu (1100-0), Annealed
AMS 4003 - Aluminum Alloy, Circles, 0.12cu (1100-H14), Strain Hardened
AMS QQA250/1 - Aluminum 2014 Circle
Aluminum Alloy 2014 Circles Dimensions
Parameter
Range
Tolerance
Thickness for circles (mm)
0.71 - 6.35
for 0.71 to 1.4 +/-0.08
for 1.41 to 2.5 +0.1, -0.13
for 2.51 to 4.0 +/-0.13
for 4.01 to 5.00 +/-0.15
for 5.01 to 6.35 +/-0.20
Thickness for ovals (mm)
1.75 - 3.00
for 1.75 to 2.5 +0.1, -0.13
for 2.51 to 3.00 +/-0.13
Diameter (mm)
102 - 1250
(a) sheared circles +2, -0
(b) punched circles +0.5, -0
Die sizes
For circles
Thickness (mm)
Diameter (mm)
< 2.00
normal: 190.5, 197, 203, 216, 222, 229, 235, 238,
241, 245, 247.5, 250, 254, 267, 273, 279, 280, 292,
300, 305, 307, 330
2.00 - 6.35
normal: 250, 255, 263, 275, 285, 295, 298, 300, 305,
310, 312, 247.5, 250, 315, 325, 330, 332.5, 335,
336, 350, 355, 358, 360, 365, 370, 375, 380, 385, 387,
390, 395, 406, 410, 412, 415, 416, 430, 435, 456, 465,
484, 485, 489, 490, 517
For ovals
1.75 - 3.00
normal: 198x211, 242.5x159.5, 144x157, 160x173
2014 Aluminum Alloy Circles Chemical Composition
| | |
| --- | --- |
| Aluminum | 2014 (min) (max) |
| Si | 0.50 - 0.90 |
| Fe | 0.0 - 0.50 |
| Cu | 3.90 - 5.00 |
| Zn | 0.0 - 0.25 |
| Mn | 0.40 - 1.20 |
| Mg | 0.20 - 0.80 |
| Ti | 0.0 - 0.15 |
| Other | 0.0 - 0.15 |
| Cr | 0.0 - 0.10 |
| Ni | 0.0 - 0.10 |
| Others | 0.0 - 0.05 |
| Ti+Zr | 0.0 - 0.20 |
| Al | Balance |
ASTM B209 Aluminium Alloy 2014 Circles Mechanical Properties
Alloy
Temper
UTS (Mpa)
Yield Strength (Mpa)
Elongation (%)
-
-
Minimum
Maximum
Minimum
Maximum
A 50mm (Minimum)
EN AW-2014
O
–
250
–
135
10
T4
370
–
230
–
11