Aluminium Pipes
We are manufacturer of Best quality Aluminium Pipes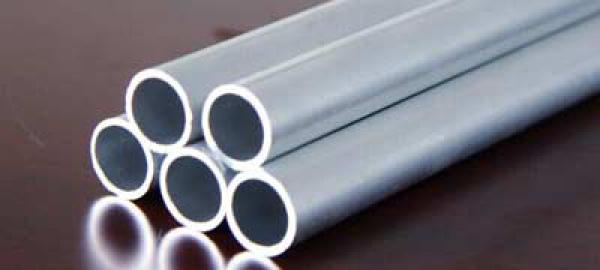 Metalfort Inc. are reputed and ISO 9002 certified distributors of . We have extensive experience in catering to the needs of several different industries for almost three decades. We commit completely to our customers to provide them with the best service and products of the highest quality. We ensure that our products are tested and checked for quality at every stage. We understand the requirements of every customer properly and help them to gain success in their respective fields.
Aluminium Alloy 2017 Pipe, ASME SB241 Aluminium Pipes, Aluminium 6061 Pipes Exporters, Aluminium Piping, Aluminium 2024 Pipe at Best Price in India, ASTM B241 Aluminium Alloy Pipe, Aluminum Pipe Suppliers in Mumbai, India.
Aluminum pipes are often used for a wide range of applications depending on the tempers and series they belong to. These modifications in the alloy bring changes in their resistivity, durability, aging, formability, and machinability.
Aluminium Pipes 2024 Suppliers, Aluminium Pipes Stockist, Aluminium Alloy 2017 Extruded Pipes, Aluminum 6101 Industrial Pipe, Aluminium Seamless Pipe, Aluminium Alloy Pipes Price List, Aluminium Pipe Manufacturers, Aluminum Alloy Pipes Exporter in India.
Aluminium Pipe Price Per Kg, Aluminium Pipe Price, Aluminium Pipe Weight Calculator, Aluminium 6063 Square Pipes, Aluminium Round Pipe, Aluminium Pipe Exporter in Mumbai, Aluminium Alloy Seamless Pipe, Aluminium Hot Rolled Pipe, Aluminium Pipe Price In India.
They are flexible lightweight and available at reasonable prices. Their lightweight property helps in providing greater volume/per weight. Aluminum pipes are heat-conducting and fit well in the applications of temperature control like refrigerators, air conditioners, etc. Their tarnishing capabilities are negligible and hence the paint or other coatings are long-lasting. Some aluminum alloys have excellent formability and can be formed into the most complicated designs and hence used in applications accordingly. The aluminum alloy which has silicon as the alloying metal is an example of such alloys whereas certain aluminum alloys are used in applications that require higher strength. Aluminum alloy HE-19 piper is a good example for this case since it may have low durability or formability but it is highly used in the aerospace industry for its high-strength features. Whereas Aluminum alloy 6063 pipes have a very smooth and shiny surface finish but cannot compete with the other alloys in terms of strength. They are widely popular for those applications that require the manufacturing of aesthetic products rather than strong products. It is lightweight and durable properties also increase its uses in the applications of hydraulic systems, fuel lines, racks, etc.
ASTM B211 Aluminium Pipes Specification
Standards : ASTM B345, B241, B429 / ASME SB345, SB241, SB429
Standard : AMS QQ-A-200/8, AMS QQ-A-200/9, AMS 4160/4161/4172
Size : 8 (1-1/2″ / 1.900″)
Outer Diameter : 1″ through 16″
Length : Double Random, Single Random, Cut Length
Thickness : SCH20, SCh20, SCh20, STD, SCH80, XS, SCp0, SCH80, SCH120, SCH140, SCH160, XXS
End : Plain End, Beveled End, Threaded
Aluminium Alloy Pipes Standard Specification
ASTM B241 / ASME SB241 - Standard Specification for Aluminum and Aluminum-Alloy Seamless Pipe and Seamless Extruded Pipes
ASTM B345 / ASME S345 - Standard Specification for Aluminum and Aluminum-Alloy Seamless Pipe and Seamless Extruded Pipe for Gas and Oil Transmission and Distribution Piping Systems
ASTM B429 / ASME SB429 - Standard Specification for Aluminum-Alloy Extruded Structural Pipe and Tube
EN AW-AlMg1SiCu - Standard Specification for Aluminum and Aluminum-Alloy Round Pipe
ISO AlMg1SiCu - Standard Specification for Aluminum and Aluminum-Alloy Cold / Hot Rolled Piping
Aluminium Pipe Schedule Chart
1/8″ IPS(.405″ O.D.)
3 1/2″ IPS( 4.000″ O.D.)
SCH 40, 80
SCH 10, 40, 80, 160, XXH
1/4″ IPS(.540″ O.D.)
4″ IPS(4.500″ O.D.)
SCH 10, 40, 80
SCH 10, 40, 80, 160, XXH
3/8″ IPS(.675″ O.D.)
5″ IPS( 5.563″ O.D.)
SCH 10, 40, 80
SCH 10, 40, 80, 160, XXH
1/2″ IPS(.840″ O.D.)
6″ IPS(6.625″ O.D.)
SCH 5, 10, 40, 80, 160, XXH
SCH 5, 10, 40, 80, 120, 160, XXH
3/4″ IPS(1.050″ O.D.)
8 " IPS(8.625″ O.D.)
SCH 10, 40, 80, 160, XXH
SCH 5, 10, 40, 80, 120, 160, XXH
1″ IPS:(1.315′ O.D.)
10″ IPS(10.750″ O.D.)
SCH 5, 10, 40, 80, 160, XXH
SCH 10, 20, 40, 80 (.500), TRUE 80(.500)
1-1/4″ IPS(1.660″ O.D.)
12″ IPS(12.750″ O.D.)
SCH 10, 40, 80, 160, XXH
SCH 10, 20, 40(.375), TRUE40(.406), SCH80(.500)
1-1/2″ IPS(1.900″ O.D.)
14″ IPS(14.000″ O.D.)
SCH 10, 40, 80, 160, XXH
SCH10 (.188), SCh20 (.375)
2″ IPS(2.375″ O.D.)
16″ IPS(16.000″ O.D.)
SCH 10, 40, 80, 160, XXH
SCH10(.188), SCh20(.375)
2 1/2″ IPS(2.875″ O.D.)
18″ IPS (18.000″ O.D.)
SCH 10, 40, 80, 160, XXH
SCH-40 (.375)
3″ IPS( 3.500″ O.D.)
SCH 5, 10, 40, 80, 160, XXH
Aluminium Pipe Size Chart
OM SIZE
OUTSIDE
DIA (D)

WALL THICKNESS IN MM (T)

METRIC SIZE
SCH 10S
SCH 10
SCH
40 S
STD Weight
SCH 40
SCH 80s
SCH 80
1/4 "
13.72
1.65
2.24
2.24
2.24
3.02
3.02
-
3/8"
17.15
1.65
2.31
2.31
2.31
3.2
3.2
1/2"
21.34
2.11
-
2.77
2.77
2.77
3.73
3.73
15
3/4"
26.67
2.11
2.87
2.87
2.87
3.91
3.91
20
1"
33.4
2.77
-
3.38
3.38
3.38
4.55
4.55
25
1 1/4"
42.16
2.77
3.56
3.56
3.56
4.85
4.85
32
1 1/2"
48.26
2.77
3.68
3.68
3.68
5.08
5.08
40
2"
60.32
2.77
-
3.91
3.91
3.91
5.54
5.54
50
2 1/2"
73.02
3.05
-
5.16
5.16
5.16
7.01
7.01
65
3"
88.9
3.05
-
5.49
5.49
5.49
7.62
7.62
80
3 1/2"
101.6
3.05
-
5.74
5.74
5.74
8.08
8.08
90
4"
114.3
3.05
-
6.02
6.02
6.02
8.56
8.56
100
5"
141.3
3.4
-
6.55
6.55
6.55
9.52
9.52
125
6"
168.27
3.4
-
7.11
7.11
7.11
10.97
10.97
150
8"
219.07
3.76
-
8.18
8.18
8.18
12.7
12.7
200
10"
273.05
4.19
-
9.27
9.27
9.27
12.7
15.08
250
12"
323.85
4.57
-
9.52
9.52
10.31
12.7
17.47
300
14"
355.6
4.77
6.35
-
9.52
11.12
-
19.05
350
16"
404.6
4.77
6.35
-
9.52
12.7
-
21.44
400
18"
457.2
4.77
6.35
-
9.52
14.27
-
23.82
450