We Are the Leading manufacturer & exporter of
Aluminized Steel
We manufactures and exports high quality Aluminized Steel worldwide. Learn more about our products.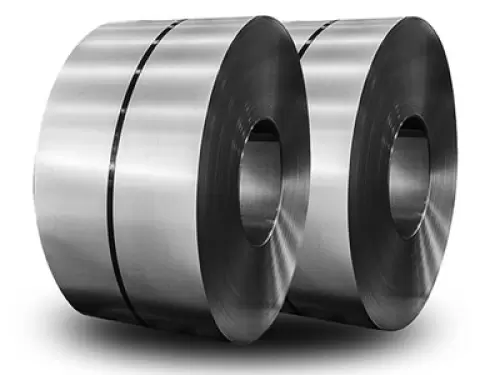 Aluminizing can be defined as thermo-chemical diffusion process applied to carbon steel, alloy, and stainless steels; nickel-based alloys; and nickel-iron alloys to enhance oxidation and corrosion resistance.In simple terms Aluminium or Aluminium alloy coating is applied over a Base metal (Stainless steel, Mild Steel, Nickel Alloy, Alloy Steel).This new combination of Coating with selection of Base material options makes it a new product in industry which can be used for better performance, longer life and cost saving.Aluminzed products are relatively new in the industry as compared to Galvanized steel.
CORROSION RESISTANCE
Aluminized Steel Type 1 has superior performance compared to zinc coated materials for resistance to atmospheric and salt spray corrosion. FORMABILITY Aluminized Steel Type 1 can be used to produce parts containing simple bends to parts with deep drawing requirements.
HEAT REFLECTIVITY
Aluminized Steel Type 1 has excellent heat reflectivity during exposures to temperatures below 800 °F (427 °C), reflecting up to 80% of the radiant heat that impinges upon it.
HIGH TEMPERATURE PROPERTIES
Aluminized Steel Type 1 is an excellent heat resistant material effective up to 1250 °F (677 °C). For applications above 800 °F (427 °C) where alloying of the coating is a concern, AK Steel's DQHT grade has been specially formulated to resist alloying at temperatures up to 1000 °F (538 °C). ALUMI-THERM® Steel is a product designed to provide enhanced high temperature strength at temperatures approaching 1400 °F (760 °C).
COATING CHARACTERISTICS
Aluminized Type 1 (T1) coating contains approximately 91% aluminum and 9% silicon that is metallurgically bonded to the steel substrate. The hot dip coating process assures a tightly adherent, uniform coating on both sides of the product. A schematic of the coating cross-section is shown in Figure 1. Aluminized Steel Type 1 is supplied in coating weights ranging from T1 13 (0.13 oz./ft.2 ) to T1 60 (0.60 oz./ft.2 ) as shown in Table 1. Most common are T1 25 and T1 40. Lighter coating weights (T1 13 or T1 25) are recommended for severe forming applications. For coating weights not listed, contact your AK Steel sales representative.
SURFACE PROTECTION AND LUBRICATION
To prevent staining in transit and storage, it is recommended that Aluminized Steel Type 1 be supplied with a rust-preventative protective oil. In some cases, a pre-applied press forming lubricant can be supplied. A dry film (acrylic/ polymer) lubricant can also be supplied by further processing Aluminized Steel Type 1 through a coil coating facility. These specialty organic coatings are easily removed with a mild alkaline cleaner. To further enhance protection against storage stain, Aluminized Steel Type 1 can be supplied with a chemical surface treatment (chrome-free). This treatment is not recommended if the final product will be painted unless the appropriate pretreatments are performed.
MATERIAL

CLASS

aluminized steel grades

TENSILE TEST

HARDNESS(HrB)

YP(kgf/mm2)

TS(kgf/mm2)

EL(%)

Aluminised Coated Steel

Commercial

SA1C

23

36

35

40

Drawing

SA1D

21

32

38

38

Deep-Drawing

SA1E

20

31

40

35
Uses
Aluminized steel was developed for providing more structural durability and a high yield strength in highly corrosive environments. Aluminized steel maintains the strength of high-alloy steel, but at a fraction of the cost. Aluminized steel is cheaper to produce than high-alloy steels and thus is a preferred material for manufacturing automobile and motorcycle exhaust gas systems.
Applications
Automobile Silencers, Fuel Tanks & Exhaust Systems,
Industrial Heaters & Industrial Ovens.
Bakery Mould Products.
Household Thermal Equipments
Hot Air Blowers.
Charcoal Based stoves etc.
We exports Aluminized Steel worldwide
Get best quality Aluminized Steel
We can help you to get best quality Aluminized Steel as per your requirements.
Ontime delivery

Customization as per request

After sales Support

Best quality